The Puy Pointu circuit
Rempnat
The Puy Pointu circuit

Purple markers
Network
Embed this item to access it offline
---
Description
At the crossroads, in the undergrowth, turn right towards the road. When you get to the road, cross it and take the path that is almost opposite. Continue straight ahead until you reach a crossroads with another path.
At the crossing, take a path on the left and continue up to the road.
When you reach the road, follow it to the left and continue until you reach Le Pradoux.
When you get to the crossroads in the village, take the path opposite, between the farm buildings. Follow the path for one kilometre through the forest to a small traditional building. Continue the track by going uphill to the right. The track turns into a road.
Leave the path on your left. Continue on the road and follow it.
When you reach the next road, take this one to the left. Follow it for 500 m.
At the crossroads, take the track that goes uphill on the left. At the next junction, continue to the right.
At the hairpin bend, take the path on the left. Continue for 1.5 kilometres. Cross the Lubet stream. Continue up to the road.
When you arrive at the road, go straight ahead to reach the starting point of the hike. Variant (4km round trip): It is possible to go to the Château du Mazeau. Take the path that goes in front of the starting point, on the car park side.
At the junction, take the leftmost path to the left. At the next intersection, go straight ahead and continue until you reach the chateau. Turn around to return to the starting point.
Departure
: Puy du Pradoux
Towns crossed
: Rempnat, Tarnac
Access and parking
You will discover the history of the Château and all the landscapes that surround as you stroll around the Le Puy Pointu circuit.
---
Accessibility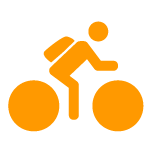 ---
Report a problem or an error
If you have found an error on this page or if you have noticed any problems during your hike, please report them to us here:
---